I awoke the next morning feeling like I'd crashed a motorcycle ten times the day before . . . because I had. Mostly it was muscle soreness, but I did have a nice bruise on my leg from where I'd smacked it on something.
The weather was crisp and clear, warm sun but cool air. Perfect for riding.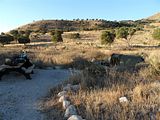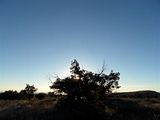 I packed up, and as I was heading north from the park, what happens?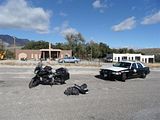 Yes, again. It was one of those pointless areas where the speed limit drops from 75 to 55 for the space of about a mile and exists for no other reason than to hand out expensive ($340!!!!) speeding tickets. You want to know how big the "town" is that gave the justification to bring the speed limit down? Look at the photo above. That is the entire town. All of it. Two buildings, one of which is abandonded, and a warehouse to the left out of frame. Just enough for them to justify getting a glorified mall cop and giving him a radar gun.
Who the hell even decides to become a cop in a place like that? Really, does someone wake up one day and say "Instead of going out and helping people and trying to do some good in the world, I think I'll live in bumblefuck nowhere and be a leech on society." I've met a good number of small-town police (and non-police, to be fair) who are like this, and it's always been very evident to me why they become cops; because they're not people who could ever get respect any other way. They have nothing else going for them, no innate ability to do anything constructive with themselves that would allow people to look up to them. So they take a job where they can swagger and feel important, and people HAVE to respect them or else. It's just the personality type that these useless small towns seem to attract for law enforcement officials.
*gets off soap box*
As if to illustrate just how little else this guy had to do, before I could even finish putting my bike back together:
I rode north for a couple hours, still on the eastern side of the Guadalupe Mountain range, until I came to yet another nature nerd location; Carlsbad Caverns National Park. The entrance to the caverns is up on top of the mountain range, so you get there via a pretty fun and twisty road.
Gotta love a place that accommodates bikers!
Unlike the park to the south, there's not much of this place to see above ground; you have to go deep to see the neat stuff. An elevator takes you down to the main room, which has walkways and handrails built through it so anyone and their grandmother can enjoy the place; there's even a snack bar and some kitchy souviner stands down there, 750 something feet underground. It's kind of surreal, actually.
I didn't think I'd be content walking around on the paved paths; that sounded boring and not at all properly cavelike. So I paid my $20 and opted for one of the off-train tours, which take you deep into other parts of the cave, guided by two rangers. My tour didn't start for another hour or so, so I went back up to the surface to make use of the cafeteria and wander around the gift shop.
A friend once asked me "Why do motorcyclists always take pictures of their food when they're on road trips?" And the answer is "I don't know! But we do! :D"
I amused myself for a while in the gift shop; I always LOVED these little science toys when I was a kid, and it turns out that I haven't changed much. I still think they're awesome.
The pirate army was out in force as well. At one point I went out back out to my bike to get my riding suit, and found that they had all parked as far away from my filthy, dented, mangled bike as they could. It make me chuckle. :)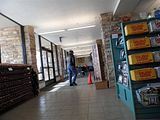 After feeling smugly superior to another group of bikers for no reason at all (besides the fact that I'm kind of a dick), I went back down into the caves and went through the quick safety talk by one of the rangers (who was actually really cute). Mostly the talk consisted of "Don't touch anything, and watch where you step". Then they gave us our sweet mining hats :D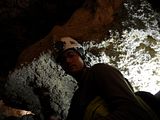 (Yes, the quality of these pictures stink, no flash with a point-and-shoot camera. I really should have brought my SLR)
To go off-trail, we first walked a bit through the main room, untill we arrived at a sneaky little un-marked spot. We waiting until most of the other crowds were away (the guides don't want to make the souper-seekrit entrances to the off-trail places that well known), attached a rope to a hand-hold and slowly lowered ourselves down a steep and slippery slope.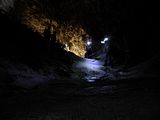 From there, we decended another ~30 feet down some stainless steel ladders, into almost pitch blackness.
Once more people came down, there was enough ambiant light that with a 3-second exposure, I could at least capture most of the details of the place.
In years past they would let people walk through willy-nilly, but in the last few decades the Park Services has focused more strongly on conservation and preservation. Now, you're only allowed to walk on a path that's been marked out with orange tape, about two feet wide, to prevent any more damage to the surrounding area.
We headed deeper into the caves for about an hour, every so often stopping as a group so the rangers could explain some of the cave's history, or the science behind them. I was at the front of the group, so when the rangers weren't giving talks, I ended up spending a lot of time chatting with Cute Ranger Girl.
Some of the areas we passed through were actually visible from the main room ~60 feet above us, and to accentuate the depths are lit with artificial lights. It looked really cool and gave a great feeling for how bit the place is, but it also drove the photographer in me crazy; the lights were all different temperatures. The human eye doesn't really pick up on the color differences between different types of lights, our brains automatically color-correct for it, but cameras sure notice.
(This is not edited, or re-touched, or enhanced in any way)
Deep in the caves, the guides pointed out where some of the very first tours had come through, back when things like writing your name on stuff was considered acceptable. Check out the date on that signature;June 14th, 1925.
It's very clear why they strictly limit the number of people allowed off-trail; so many of these formations are staggeringly delicate.
Most of the tour was done walking upright, but there were a number of places that were a tight squeeze. It was chilly, as well. The place is 56 degrees, year-round.
The whole tour took maybe 3-4 hours; most of that was spend waiting for the less agile people to catch up, which I mostly passed by chatting with Cute Ranger Girl (Who was . . . flirting with me? Maybe? I don't know, I'm miserable at judging these things. But she was telling me lots of stories about skinny-dipping deep in the lakes much farther down the caverns, way deeper than any official tours go)
Once we returned from the tour, it was late and the park was near closing; the shadows were getting long and there weren't any campsites in the park.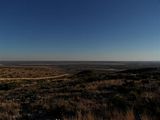 Having noted on a map earlier that almost all of this was BLM land, I basically just took a dirt track off into the grasslands to find somewhere to camp.
BULL-SHIT! I'll be the judge of what is a road, TYVM! :)
Off this little gravel track I did find a clearing big enough to pitch my tent, just as the sun vanished over the mountains to the west.