Carlsbad Caverns is only barely in Texas, and by noon on the next day I was in Roswell, New Mexico, which is famous because half a century ago a weather balloon crashed near here and a bunch of rednecks flipped out about it. Everything for 50 miles in every direction is UFO/Alien themed, well past the point of reasonable kitsch. Especially the restaurant that I stopped at to fill out postcards, although they had some cool cars as well.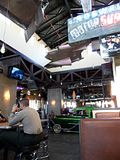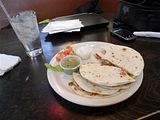 Nothing much of note happened this day, I mostly rode north into Central New Mexico. A friend of mine from New York had put me in touch with one of his old friends in Santa Fe, and I'd arrange to crash on her couch for a couple of days. I didn't make it to Santa Fe that day though; night fell when I was still about 130 miles away, and it was getting too cold to ride. I followed a rocky, steep path up off the main road and set up camp.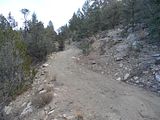 This was by FAR the coldest night I'd ever spent on the bike; the thermometer
inside
the tent registered a frigid 19 degrees Fahrenheit. In addition to my sleeping bag and fleece liner, I was wearing two pairs of socks and long thermal underwear, multiple shirts and my hat. I shoved my head into my sleeping bag as well, cinching the opening down so that it was barely two inches wide, just big enough to breath through.
While I was cold that night, I wasn't dangerously cold; we spent a lot of time in Antarctica studying the effects of hypothermia, and there's a big difference between being a little chilly and it actually being a problem. I actually slept pretty well given the temperature, although the next morning the inside of my tent was covered in frost from my breath.
I packed up the bike and rode out of the mountains, down into Santa Fe and to the first laundromat I could find. I hadn't had a shower since West Texas, and if I was actually going to be in the company of other human beings I figured I should try and at least have clean clothes. Via a flurry of text messages, I linked up with my friends friend and crashed on her floor that night; my first sleep indoors in a week.
The next day found me someplace . . . completely foreign, strange, bizarre and weird to me:
I was in a CAR! A big silly metal box with four wheels, and walls.
My friend's friend and I had been thinking of things that we could do today, and finally settled on taking a drive up into the mountains where there are supposedly a lot of natural hot springs that are warm year-round. After a bunch of googling we settled on one that was still open, but it was marked as being down a 4-wheel-drive only path. Had I been solo on the bike, I don't think I would have had a problem, but given my recent, uh, experiences with rough roads, we both agreed that it would be better to take her SUV. It was a pretty area, although I would have enjoyed it more on the bike.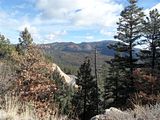 After a bit of a detour of getting a tiny bit lost, we found the turn-off for the trail and drove to the end, where it ended in a small clearing at the bottom of a sizable valley.
From here, we found the creek that we guessed was sourced from the hot spring we were seeking, and we hiked a half-mile hike up the side of the valley. This was in mid-November, and we were at a lot of elevation. It was sunny, but quite cold.
Eventually we found it, and were both blown away. This place was
amazing
.
Even at this time of year the water coming out of the spring was at LEAST 110 degrees; so hot that it was almost uncomfortable. A series of dams had been built out of native rocks that separated the water into four consecutive pools; each a couple of feet lower than the one before it, with each dropping perhaps ten degrees in temperature. All this, cut into the side of a mountain and looking down over a beautiful coniferous valley, with the steam rising up and playing with the sun beams poking through the trees. It was perfect.
Well, almost. When we first got there it was full of a bunch of naked old hippies, which while it wasn't unexpected was a little bit awkward. We made polite conversation with them for a while (and tried to avoid the display of old man balls whenever one of them would get out in a particularly ungraceful manner), but eventually they all packed up and left, and we had the whole place to ourselves.
:)
A few hours later we drove back to Santa Fe, and I was actually glad we'd brought the SUV instead of the bike; when we got back into town, there were a couple inches of snow on the ground.
I was in Santa Fe for a two more days, spending time both bleaching my new friends hair blond and then going to junkyards with her, trying to find a truck differential for an theater project she was doing in school. Eventually it was time for me to leave, so I bid my farewells and got back onto the bike, where I really belonged.
My first destination was actually back in the direction of the hot springs; I'd made note of the roads and scenery in the area and knew that I had to try them on the bike. It was just as brilliant as I'd thought it would be.
All groups of people, religious and otherwise, have sacred symbols that they bow down and pay reverence to. Motorcyclists are no different; we have symbols of worship as well.
I had lunch at the same little cafe place that we'd stopped at when we went to the hot springs, using the time to look at a map and figure out my next move.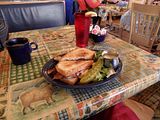 As much as the mountains here were awesome and I loved it, I couldn't figure out a good way over them. I was in the vicinity of Los Alamos, and as much as the nerd in me figured it would be neat to have a look around, I figured they probably weren't giving tours of a nuclear weapons research facility. On top of that, most of the east-west mountain roads turned to dirt as the crested the ridges and headed down to the west, and when I checked them out many of them had a good coating of snow and ice. Instead, I headed back south the way I came on super-slab, taking a right turn at Albaquuwereureuwueurequeureueruewukicky and pointed myself west on Rt 60
But there's only so much slab a guy can take in a single day; after only a few hours I found myself poking at my GPS looking for something more interesting. I picked a side road almost at random that supposedly connected to the national forest a couple hours south, and went on my way. It wasn't . . . the most brilliant move I've ever made, but it wasn't the dumbest.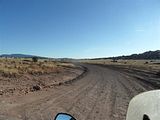 Sections of it were okay, but there were often large patches of sand and silt. Most of the time I made it through, but eventually I got myself into a patch too deep to gas myself out of on smooth tires, and went down pretty hard. This fall was basically the last the bike could take; the right saddlebag frame was cracked to shit, the bag was beaten to hell and only barely holding on.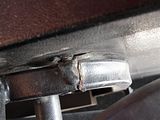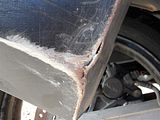 I resolved that the trip didn't count if I couldn't make it to LA in one piece, so I made the decision that after I got done with this I would lay off the dirt.
No more wipeouts befell me that day, and I made it to the end of the dirt where the road became tarmac again. I took one of the random little tracks leading off the road and set up camp for the night in a dry creek bed. Cold night again, but not nearly as cold as it had been in the mountains of Santa Fe.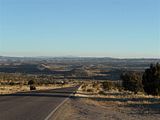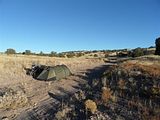 The next day I slabbed in west for a few more hours, with the goal of making it to Arizona and out of the mountains, down into the desert where it would be a little bit warmer. Not only was it getting really cold up here, but the thin air wasn't giving the power that I was used to from the bike.
Anyway, I'm riding along just like I normally do on straight roads, with my feet up on the dashboard, when I see . . . weirdness in the distance. As I got closer, it was . . . wait, seriously? How in the hell did I end up on the set of the movie "Contact"?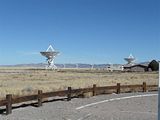 And yet here I was! At the creatively named Very Large Array; or just the VLA.
The VLA is a collection of 36 radio telescopes spread out across a few miles of desert, and linked together by a central controller. By linking them like this, these 36 separate telescopes effectively function as a single giant telescope, giving unprecedented resolution and range. This was so geeky that I HAD to stop for a wander!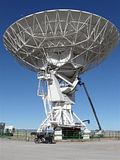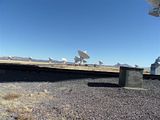 They had a little visitor center with some informational movies and a self-guided tour, which I happily engaged in. I even tried to help out with the science.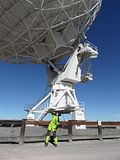 TSAVEN WHAT ARE YOU DOING. You are not a radio telescope! You cannot even detect light outside of the 400–790 THz range.
I bought some postcards, geeked out for a while at the science, and kept riding west.
As luck would have it, around lunch time I passed through . . .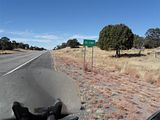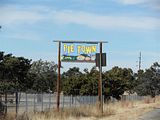 True to it's name, this "town" consisted of a total of three buildings, all of which were devoted to selling pie. And some other food, but mostly pie.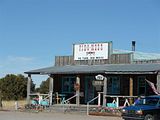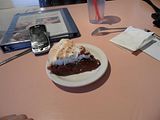 Now completely full of pie, I kept headed west, in the direction of Arizona.