I rode into Alaska under some light rain showers that eased up the farther northwest I went. Canadian Highway 1 turned into Highway 2 in Alaska, and the scenery was still pretty good . . . until I got to Tok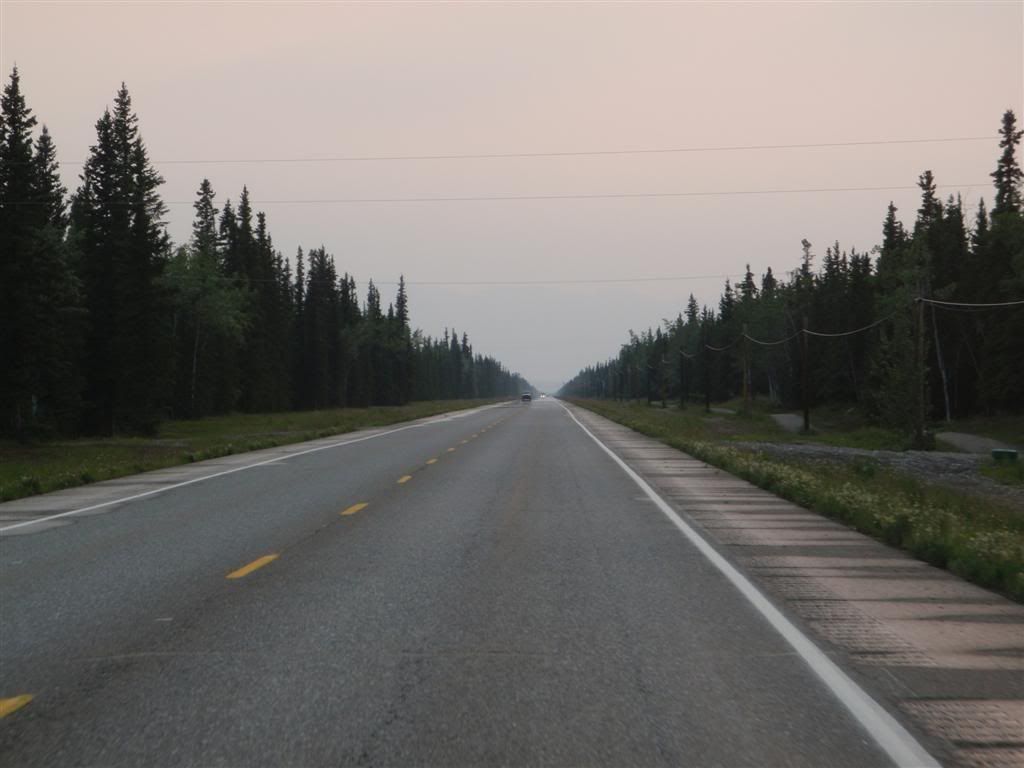 Mind-numbing straightness for what felt like an eternity. At this point, I had a decision to make. Should I continue north to Fairbanks, or go down to Anchorage?
When I had planned this trip months ago, I had planned on stopping in Anchorage first, to get new tires put on before going up to Prudhoe Bay. But this rubber was holding up way better then I ever could have hoped for: I was something like 13,000 miles into the trip by this point, and there was still a hell of a lot of tread left. With that in mind, and also figuring that it would take a week to order tires in Anchorage anyway, I decided to keep heading north, up to Fairbanks.
As I kept going north, something else started becoming apparent to me. It was hazy, very hazy, getting thicker the farther north I went, and the air smelled strongly of a campfire. It didn't take a genius to figure out what was going on, so when I stopped in Delta Junction for gas, I asked the attendant exactly what was going on.
Forest fires, she said (well, duh). There were two big ones, one patch burning off to the northeast, which wasn't a worry, but there was also a patch burning in the area of Nenana, which was where all the smoke was coming from. Her advice was NOT to go north, as the smoke was even worse in Fairbanks, and if all possible, the smart decision would be to go down to Anchorage for a week or so and wait for this to clear out.
. . . Since when have I been known for making the smart decision?
I rode out of Delta Junction (Forgetting to take my picture with the ceremonial pillar marking the official end of the Alcan) going north to Fairbanks.
7-6-09
I got into the vicinity of Fairbanks sometime later in the next day, after first passing by Ellison Air Force Base. The whole road along the base is plastered with "NO STOPPING, NO STANDING, NO PHOTOGRAPHY" signs. And while I wasn't ballsy enough to stop and get the bike's picture next to one of the signs, I did my best to at least photograph them on the move (stupid crappy camera with it's shitty focus and shutter lag)
Of all the road signs that attract me, even more interesting to me then "WARNING, SHARP CURVES, NARROW WINDING ROAD", is the "ROAD CLOSED" sign. I don't know what it is about old, abandoned stretches of tarmac that draws me to them, but when I see a stretch of tarmac that's been long forgotten, I have to get on it and see where it goes.
This was just an older part of the road that took a more interesting route then the newer road, which just bypassed the ravines with bridges. I followed it for roughly a mile before it dead-ended into a berm.
Frost heaves destroy even the main roads within just a few years in these climates, and when a road is left to rot, the heaves become so bad that I had to go into the grass to avoid high-centering the bike on some of them.
I got into Fairbanks sometime in the middle of the day, and made text message contact with goon Denizen. He wasn't free until later in the day, so I rode around to the few motorcycle shops in town trying to find someplace that carried good cold-weather touring gloves. I figured that being Fairbanks, and having a lot of people with snowmobiles (Oh, I'm sorry, "Snow Machines") would mean a good stock, but no place I found seemed to have anything that was very good. Of course, the Harley store did have mountains of HD-branded tee-shirts, jeans, hats, vests, underwear, and (Not joking) infant onesies. But heaven forbid they carry much in the way of safety gear.
I passed the rest of the day hanging out at the Fairbanks visitor and information center, which was nice enough to have free wi-fi. In their parking lot, I discovered I'd made a friend;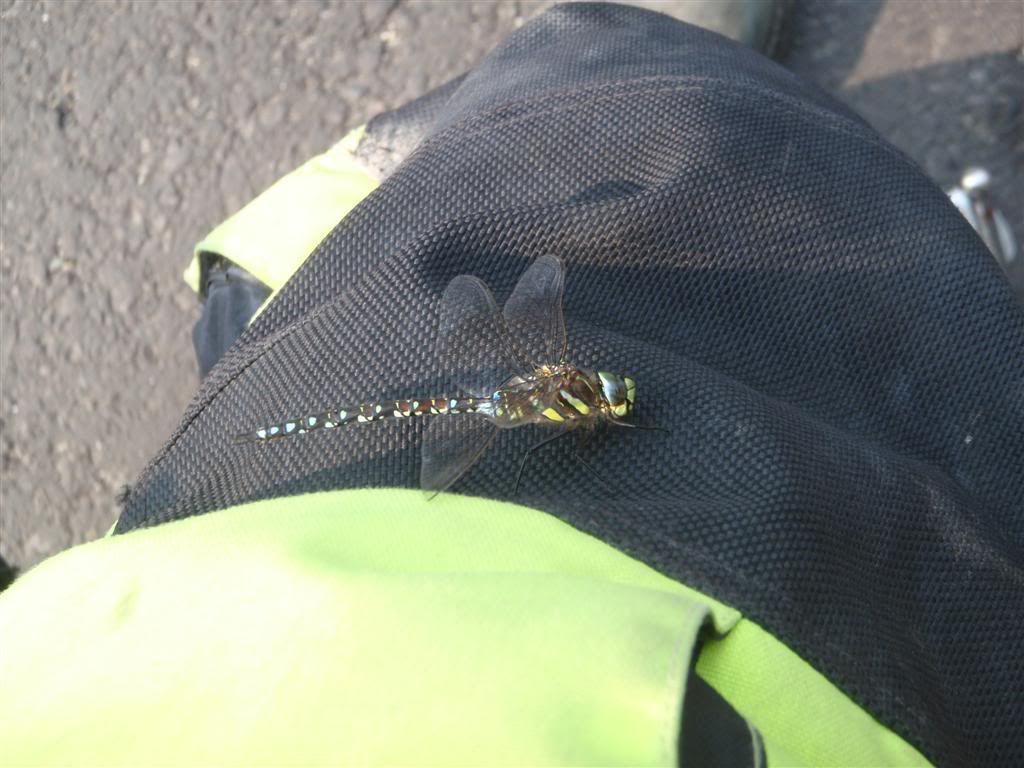 They are not kidding about the size of bugs in Alaska, jesus fucking christ.
That evening, I linked up with Denizen, and he was nice enough to treat me to the first cooked meal I'd had in a long time, at this place called . . . uh, shit can't remember it now. Busters? Something like that. Either way, the food was very disappointing.
The steak was a joke, the mashed potatoes were instant, and the vegetables were SO OBVIOUSLY from a can that I couldn't even eat them. What a waste of a goon's hard-earned money.
He and I then went to the house of a friend of his, were we all hung out and watched Top Gear for a few hours, before I headed on my way. They were nice enough to give me a few episodes of Top Gear that I hadn't seen yet on a flash drive, which I resolved not to watch until I was in the Arctic Circle. I bid them farewell, swung by a supermarket for some more basic provisions, and steeled myself for the very long ride north.
Riding to Prudhoe Bay was . . . one of the more difficult, and hands-down the most amazing part of this whole trip so far. The harshness, the desolation, the shear distance of being that far away from everything was breathtaking, and a wonder to behold. So many times along that road did I just stop, and regale in the shear absurdity of being alive in such an incredible place. I wrote up most of my run up north a couple months ago, and I won't clutter up this post by copy-pasting it all. Here's a link to it, for those of you that missed it the first time around: http://vagrantbiker.blogspot.com/2009/07/pipeline-haul-road.html
Up next: The Pipeline Haul Road, part 3