I'm not going to bother talking extensively about Deals Gap. We all know it, many of us have ridden it, and the rest of us want to ride it. Last time I came through it was on my Virago, and now with a slightly more sporty bike and some track days under my belt, I wanted to give it another shot.
Even though Deals Gap specifically is famous for it's twists, the whole area for miles in any direction is full of sportbike roads, and great views.
I had planned on linking up with a goon at the resort, but I arrived the better part of two hours late due to being delayed by the construction on the Blue Ridge Parkway. We chatted a while, and I took the luggage and hardbags off the Wee to go and have some fun.
And I promptly turned in what is probably one of the sloppiest runs ever seen on the Gap.
I'd honestly forgotten just how scary that road actually is, especially when you don't know it. This combined with the fact that I'd already done 300 miles or so that day made me all over the place. I was tired and sore and just a mess. I was on and off the gas in the middle of corners, I was completely crossed up, I was over the DY a number of times and was generally a squiddy disaster waiting to happen. After the first run, my goon friend (appropriately) chastised me for being a moron, and I at least slowed the fuck down and just tried to enjoy the road. At least as best you can, even with little traffic and no cops, the road still makes me shiver. And with no leaves on the trees, you could really see just how far down the cliff you can fall if you fuck something up.
I very much did not want to end up adding to the collection on the Tree of Shame.
Whenever someone crashes their bike on the road, they are required by tradition to leave a part of their bike in the tree. Many of the bits of plastic and metal have short descriptions of the event written on them, and a disturbing amount say "RIP"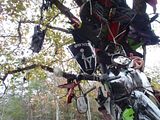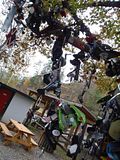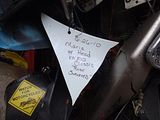 We spent that night at the resort, where I introduced my dad to the series "The Long Way Round". I know he keeps insisting that he's fine with bicycles, but I SWEAR I'm going to get him on a motorcycle someday.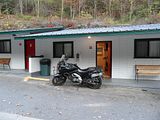 The next day dawned cold, and drizzly. Looking at the radar there was rain in almost all directions, so there wasn't much choice but to gear up and deal with it.
The goal was to make it over to the start of the Natchez Trace Parkway, which starts just south of Nashville and would run almost all the way down to the coast. There wasn't a whole lot in the way of great riding to get there, and even then it was too wet and cold to enjoy it much anyway. We burned miles west on smaller roads, starting mostly dry but hitting more and more patches of rain, until finally it was just a constant heavy rain. Didn't bother taking any pictures of it, because what motorcyclist really wants to look at pictures of cold rain?
We did stop at a little diner place for breakfast at around 11am. This place exuded sophistication and class, as indicated most strongly by the fact that their idea of napkins was a roll of paper towels on every table.
Mmm, calories!
That night we stayed in some motel that looked like it was going to be a gross fleabag, but was surprisingly clean given the low rate. The next day dawned much nicer, cool and sunny, and we headed onto the Natchez Trace Parkway.
This parkway roughly traces the route of one of the common trails used by Native Americans to travel from the gulf coast up into the midwest. It's not particularly mountainous, nor does it have any of the twists of the Blue Ridge Parkway, but it's a wonderful road none the less.
The road is incredibly peaceful, spending most of it's time in the forest, and while it's not twisty at all, rarely is it ever straight and spends most of it's time very slowly winding it's way over gentle hills and through the beautiful fall trees. Occasionally it pops out into clearings of farms or grasslands, before sliding back through clumps of trees.
It was so incredibly peaceful. No billboards, no towns, little traffic, few exits, nothing to break the serenity save for the occasional scenic view or informational/historic pull off.
It was also one of the smoothest roads I have EVER been on
, especially the northern bits part. Not a single ripple, crack, NOTHING at all. It was almost unsettling just how completely smooth the bike was, it felt like you were riding along on a cloud, you couldn't feel the road under you. It was amazing. I think this road would be perfect to take a literbike on and blast along at 150mph. Enough changes in direction to be interest, but never any real corners, excellent sight lines at all times, and buttery smooth pavement.
One of the informational pull-offs advertized a section of the origional Natchez Trace. Modern engineering standards meant that it wasn't possible to follow the origional route exactly for many sections, but there were some little gravel road bits that followed the path as closely as possible.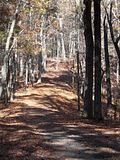 And the nice thing about having a chase vehicle is you have someone to act as camera bitch :)
We stopped in some little town just off the Parkway for lunch at a buffet, that was actually really good considering it only cost $6. Not included is a picture of the enormous family of hambeasts that was sitting at the table next to us. I couldn't get a good enough sneaky shot.
My dad was out of vacation time, so at this point he had to turn back north. We said our goodbys, and as I was backing out of the parking space . . .
Thanks, dad. Thanks for your first reaction being to grab the camera, rather then help me wake the bike up from it's little nap.
I headed down the parkway for another few hours, and once the shadows started getting long I looked for someplace to camp. I spied what looked like a small trail leading off into the forest and followed it with . . . predictably stupid results.
GODDAMIT IF BRUTE FORCE DOESN'T WORK YOU'RE NOT USING ENOUGH.
Eventually I got the bike back there, and set up for the night.
Getting the bike back out in the morning didn't go too well, either.
I road the rest of the Trace that day, ending in the town of Natchez where I got a pretty damn great pizza at a little italian place. It was so filling that I was only able to finish half of a fairly small pizza, so the rest went into the saddlebags for dinner.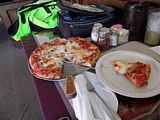 I continued west, getting into Texas and heading up to one of the National Forests in search of a place to camp. Unfortunetly, it was deer hunting season and I felt that primitive camping somewhere randomly was a good plan to get shot, so I ended up saying in one of the areas designated for hunters.
There wasn't much to note the next day, save for . . .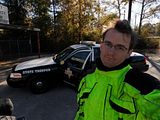 Well, shit. 77 in a 70, got off with a warning. Hooray!