Most of
Saturday, October 30th
was spent burning miles along Rt 50 from Ohio into Virgina, trying to find an REI to exchange my leaking sleeping pad at. It was actually a pretty nice way to cross the states, alternating between slowly rolling farmland and some proper twisty bits.
I got to Fairfax well after dark, and after finding the REI to swap my sleeping pad and pick up a couple of basics, I just grabbed a hotel and ordered a pizza for the night. There went $100 up in smoke, but whatever, it was a long day and I was tired and sore. The pizza was big enough that it made for decent leftovers, and on the way out I raided the maid's cart for toiletries.
October 31st:
I super-slabbed it out of Fairfax for an hour or so to get to Front Royal, a small town that serves as the start of Skyline Drive, and Shenandoah National Park.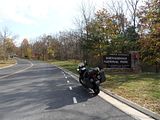 Shenandoah National Park has a slightly more checkered history then the older parks out West. While the large and famous parks in the Rockies were largely uninhabited areas when they were designated as parks, Shenandoah was fully established in 1935 and most of it's land was previously under private ownership. The residents of the area were largely pushed out, sometimes by military force, and the state of Virgina used eminent domain laws to buy the land from them and donate it to the Federal Government.
While this is a morally complicated issue, the fact is that the area is very beautiful and fulfilled the government's goal of having a National Park that was more accessible to the bulk of the population that lived on the east coast. The chief feature of the park is Skyline Drive, a 100+ mile road that runs through the park, giving stunning views at many overlooks along the way.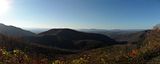 Handheld shakey video! Available in HD, no less. I got lazy and used Youtube's Audioswap to throw in some generic instrumental music, as all you could hear on the video's soundtrack was deafening wind roar.
(I'm trying to figure out how to get it to start at a specific time, but it doesn't seem to be working. Fast-forward to about 1:40 for some of the more scenic stuff, the first bit is me just playing around with holding the camera low to the ground.)
Even though the parkway is only 100-something miles long, the speed limit for most of it is 35mph and the combination of other traffic and stunning views means you can't go much faster then that anyway.
Skyline Drive comes out of the park and turns into the Blue Ridge Parkway, which is essentially the same idea as Skyline Drive, only longer. It takes a meandering, 477-mile long route through the mountains, avoiding many towns and cities, serving it's single function of being a beautiful drive.
And I'm sure there's some out there who would disagree with me, but really it's the same thing as Skyline, only more. Personally I like the Blue Ridge Parkway a bit better then Skyline, I think the views are more rugged and look down on fewer farms and civilization, and more on the endless rolling ridges.

I took the Blue Ridge Parkway as far south as Roanoke, by which time it was late and the sun was gone. Like on my last trip, my dad used my motorcycle trip as an excuse to ditch work and tag along on my travels in his van. While it slows me down, it does mean that I can pull on the heartstrings and have him pay for everything. The plan had been for him to meet me in Ronanoke and then for us to continue down the BRP together, but then I came up with another way he could spend money on me.
Zip line adventures!
We went on a coarse that consisted of five total ziplines, this one being the longest at 1800 feet. Unfortunately the batteries in my GoPro didn't hold up for the other ziplines.
I know this is a short update, but I think that's it for now. These take a lot more time to write then you'd think, especially when you have my bad habit of taking a zillion pictures that I have to sort through and stitch together into nice panoramas (and then clean up in Photoshop because I'm anal like that)