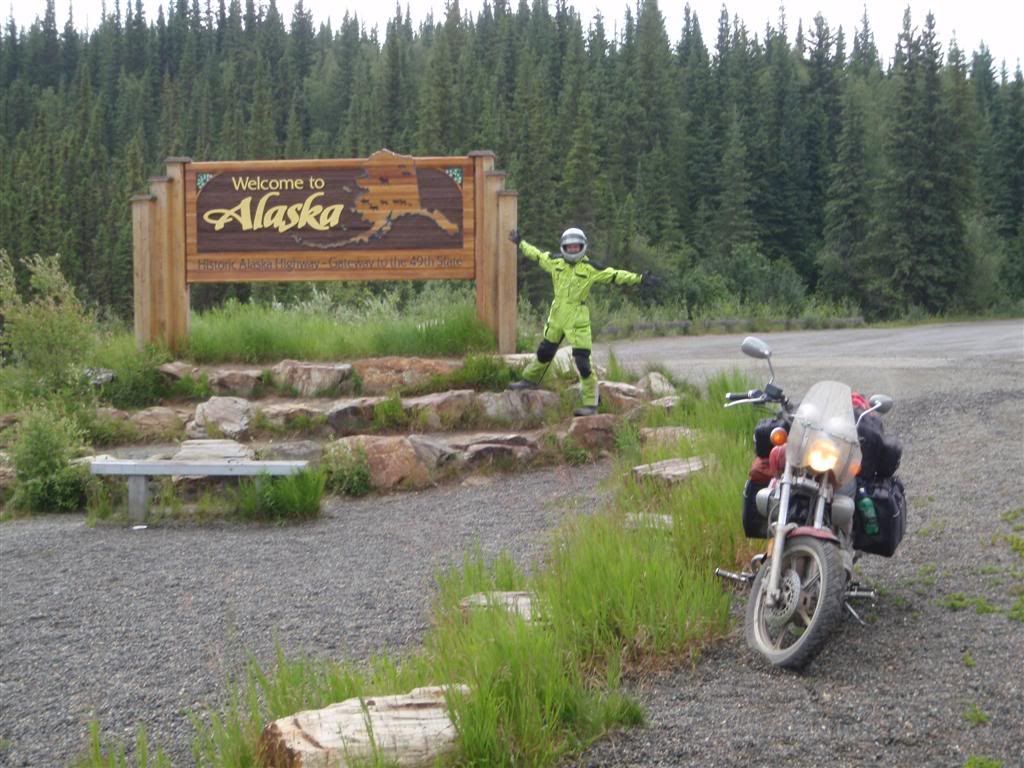 I got into Alaska yesterday, but was only able to find internet today.
Adding to the list of things I've lost:
-My nice cold-weather gloves.
I think I left them at my campsite in British Columbia a few days ago. So, if anyone is doing the Alaska Highway, about 150 miles south of Whitehorse, you'll go over a little bridge labled "Screw Creek". There's a gravel pull-off area next to the bridge going down to the creeck, with some fire pits and evidence of people camping there. If you search around a little, you should be able to find a pair of really nice XL Tourmaster Winter Elite gloves there. I've been lucky and the weather has been really nice since I lost them, but I'm going to get some new gloves in Fairbanks. There goes $150 that I didn't want to have to spend.
-The power cords for my laptop.
I think I left these at the coffee shop in Whitehorse. The good news is that I still have the power brick and the DC cord, so I can still charge the laptop off the bike's electrical system, just not off wall current.
Just . . . what the fuck is wrong with me? Why can't I manage to hang onto ANYTHING?
I decided that I'm also going to swing by an Optomistrist when I'm in Fairbanks, as well. The glasses I'm wearing now are an old perscription that isn't that great, I've been meaning to get new lenses for them for a while anyway. I lost my perscrip sunglasses back in Quebec, and have managed to deal without them okay, but it's really becoming apparent just how much of a bad idea that is.
The sun visor on my helmet works okay, but it washes out definition a lot. Which is fine when I'm on paved roads, but when I'm on gravel/dirt, where I REALLY need to be able to see the road conditions ahead of me very clearly, it's just dangerous.
The plan now is to head up to Fairbanks, and get an eye exam there. I figure it'll take a week or two to get the sunglasses lenses, so I'm going to use a larger chain or franchise store, one that has a branch office in Anchorage as well. I'll get the eye exam, and have the lenses ordered and sent to Anchorage. I'll go up the Pipeline haul road, and then down to Anchorage and spend a couple days riding around the Kania Peninsuala. By the time I leave, hopefully the lenses ordered should be in at the branch office in Anchorage, and then I'll be able to actually see where the hell I'm going (hooray!).